Me: *Busts through the door like Donald* MERRY CHRISTMAS!
I'm pretty much a Scrooge until Christmas day, so today is my only time filled with Christmas carols, jingle bell jewelry, and holiday cheer – except family Christmas parties.
Because of all of the engagement announcements this year (congrats Ashley & Solomon, Luke & Lauryn, and Micaela & Trei!!), this Christmas I am being sentimental about my family's annual Christmas traditions, specifically those that I want to keep alive. Everyone has those traditions that are near and dear to his/her heart. Here are my top 5 family Christmas traditions that I hope to pass on to my kids some day:
Christmas Eve: This is where my holiday begins. Every Christmas Eve my dad's side of the family gets together at my grandparents' house. That may not seem like a big deal at first but you should see it. There are 30+ crazy relatives, plus significant others, crammed into one house. We always joke about people needing to stick limbs out windows to fit us all inside. We pray, eat buffet-style food, watch football, play Crazy Poker, and exchange gifts. It's one of the only times my whole family comes together, and I love it! Well, except family photos (I usually feel like Justin [middle] and act like Maxine [left])….

Stockings First!: Early Christmas morning my family gathers in the living room with our stockings that Santa filled over night. Yes, Santa – even though the youngest of us is 16 years old. We dump our stockings onto the floor and take turns guessing what every wrapped gift is. Since it's pretty much the same every year, we usually guess outrageous things like "the key to the city" or (Bob Barker's The Price is Right voice) "a brand new car." We always get toothpaste, deodorant, silly string, mini pinball games, etc. Nothing too crazy.
Cinnamon Rolls: Breakfast break! Once stocking gifts are opened, we all chat until Mom's done cooking cinnamon rolls. Then we feast!
Tournament: A unique Schriner family tradition is our Christmas-Wrapping-Paper-Tube Tournament. Our family wraps enough gifts every year that there are at least 12 rolls of wrapping paper completely used. After we finish our cinnamon rolls, we go outside and each choose a tube and a partner. Then, partners "sword fight" with the tubes until one of them breaks. It's so hard not to break your tube, especially if you're attacking. The one with the unbroken tube moves on to the next round. I'm last year's reigning champ, but I'll tell you later this week who wins this year.
Christmas Ornament Gift: One of our gifts under the tree is our Christmas ornament. We each get one that summarizes the most memorable moment of our year. One year I got Donkey from Shrek because I told my mom his "That's what friends do – they forgive each other" quote after a fight I had with a friend.
BONUS – Big Gift Last: Hehe. This is the tradition that has frustrated me most over the years, and one I will NOT be continuing. My parents used to always act like the gifts were over, and the kids would be happy with what they got, except someone didn't get that gift, the only one that kid had on his/her list. After about half an hour of playing with new toys, my parents would call that kid back into the living room and hand him/her a gift they "forgot." It would be the gift he/she always wanted and that kid would be happy. One year my parents brought us all back together and gave iPods to the three youngest kids (not me). Long story short: my parents hid a laptop from me until I was crying, and I was so frustrated that I flicked off my dad on camera (with Mom's permission).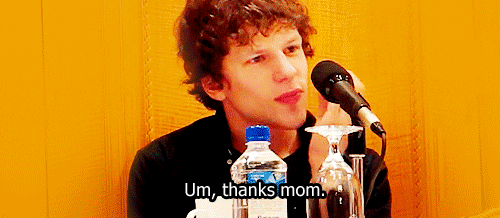 What do you think? Do you have family traditions that you want to pass down or ones that you don't? I'd love to hear both in the comments! Happy holidays!