The first real snow came to Indiana this week (real snow meaning it stuck to the ground for more than a few hours).
Woo. Lucky us. (Total sarcasm.)
While I'm glad that I got to watch my Kenyan friend Brandt dance through his first snow, as a Midwest native, I am not loving this weather.
My biggest problem with the snow is driving. Sadly, my car went kaput after Thanksgiving break, so I have my brother's car. Because it's not the car I usually drive, I am investigating everything I can do to put his car in "winter ready" condition. Here are a few things I discovered that you may want to do to prep your vehicle for winter too:

Fill your fluids: Before winter really sets in, fill your coolant, washer fluid, and engine oil. These fluids can stop your engine from overheating or freezing in the negative temperatures. Another fluid to keep up with is gas. Always keep the tank at least half full to prevent condensation. Condensation can freeze so your car won't start.
Inspect your tires: Spinning out is not fun. When it gets cold outside, the air molecules in your tires condense and reduce the volume and pressure in your tires. Driving with deflated tires can wear out your tires and increase the normal distance it takes to brake.
If you can afford winter tires, good for you! Buy them. If – like me – you can't afford them, be sure your tires are filled to their appropriate PSI. This will give your tires more traction (no matter how worn your tires are). It usually costs $1.50 to fill your tires at a gas station.
Replace your wipers: I'm bad at coughing up money for this, but I'll be glad that my wipers work when I'm chugging 35 mph down the highway in a snowstorm and can see. Good winter windshield wipers are under $20.
Check your car's functionality: Essentially, make sure everything in your car is working like it's supposed to. Be sure the heat and defrost work. Look at the engine's belts and hoses under the hood. Make sure the belts are running smoothly and the hoses aren't leaking. If you don't know what you're looking for, take the vehicle into a trusted mechanic shop. Most winter services should only cost around $30-40.
Pack a winter emergency kit: If your stuck, better safe than sorry. This emergency list may look excessive, but keeping these items in your car could save your life or save you a lot of pain.

Blankets
Ice scraper
Extra clothes (sweats, hat, gloves, socks)
Extra (charged) cell phone (even if it's not in service, it can call 911)
Extra vehicle fluids
First Aid kit (big and small bandages, first aid cream, gauze, tape)
Flashlight and extra batteries
Jumper cables
Matches and a candle
Non-perishable food and drinks
Phone charger and car port
Sand and a shovel (to place behind tires if you get stuck in the snow)
If you use these tips winterize your vehicle, you'll be ready to hit the road like Drake here.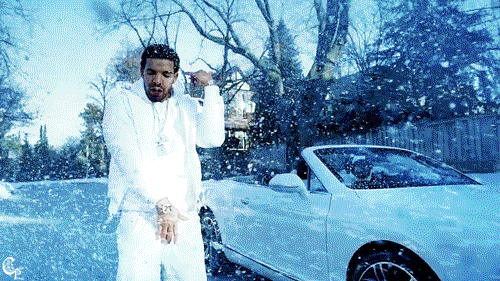 **Please don't ride a convertible in the middle of winter. And keep safe, friends!
Do you have more winter safety tips? I'd love to hear them in the comments below. And do you think it's worth investing in garage space for the winter?