Welcome, women! Thanks for tuning in for the first "Extraordinary Young Women" post. EYW is a blog created to help you sort out what it means to be a young woman "adulting" in the real world. (Young meaning lively and filled with an adventurous spirit, not necessarily young by age.)
If adulting is a new term for you, then you have missed out on a HUGE trend. Adulting was Grammar Girl's 2014 Word of the Year, and it has been used throughout social media since its first (known) sighting by Daniel Kroft in 2010.
Tonight @queenbroadway really made me feel like an adult. #adulting

— Mr. Diggy (@DanielKroft) May 22, 2010
Now, there is no perfect definition for adulting, but I think it's best summed up in these posts.
When in doubt, first go to the dictionary. As far as I know, Merriam-Webster is the only dictionary (besides the Urban Dictionary) that has this term defined. It says adulting is "to behave like an adult, to do the things that adults regularly have to do." Super complicated, right? It also lists a few adulting tasks, like living independently, visiting the dentist, etc.
In 2014, Grammar Girl defined its Word of the Year as "acting like an adult or engaging in activities usually associated with adulthood—often responsible or boring tasks."
Not that I will usually turn to Comsopolitan for a definition, but they also phrase it pretty well. To Cosmo, adulting means "to do grown up things and hold responsibilities such as a 9-5 job, a mortgage/rent, a car payment, or anything else that makes one think of grown ups."
So, things to remember about adulting: 1) behave like an adult, 2) not all tasks will be something you want to or can do, and 3) responsibilities accumulate as you grow up.
Now that you know what adulting is, you may think it looks like this:
But my goal is to show you that adulting can be a fun, new adventure – something that you can do. It doesn't have to be some freaky monster chasing you or lurking around every corner. For me, I want to motivate myself to feel like this (even if it's hard):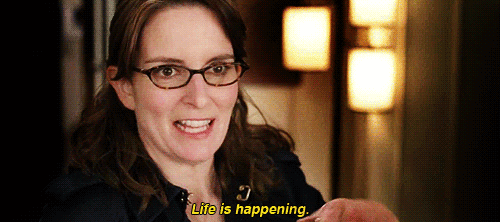 As an introduction to adulting and squashing some of those impending fears, check out this Huffington Post article, 10 Myths about Adulting. And for a few laughs to know you're not alone while adulting, check out LifeBuzz's 20 Hilarious Tweets that Nail the Struggles of Adulting.